| Monday | |
| --- | --- |
| 0930-1030 | Mixed ability Pilates with Jackie |
| 0930-1030 | Intermediate Pilates with Anne-Marie |
| 1045-1145 | Beginners Pilates with Jackie |
| 1900-2000 | Mixed ability Pilates with Suzi |
| 2015-2115 | Intermediate Pilates with Suzi |
| Tuesday | |
| --- | --- |
| 0930-1030 | Healthy Back Pilates class with Suzi (specifically for those with lower back pain) |
| 1045-1145 | Mixed ability Pilates with Suzi |
| 1200-1300 | Pregnancy Pilates - New! |
| 1530-1630 | Healthy Back Pilates with Jackie (specifically for those with lower back pain) |
| 1700-1800 | Mixed ability Pilates with Suzi |
| ​1815-1915 | Mixed ability Pilates with Anne-Marie |
| ​1930-2030 | Beginners/Improvers Pilates with Anne-Marie |
| Wednesday | |
| --- | --- |
| 0915-1015 | Mixed ability Pilates with Suzi |
| 0915-1015 | Bone Strength Pilates with Anne-Marie |
| 1030-1130 | Mixed ability Pilates with Suzi |
| 1415-1545 | Yoga with Alex - New! |
| 1700-1800 | Beginners/Improvers Pilates with Anne-Marie |
| 1830-1930 | Mixed ability Pilates with Suzi |
| 1945–2045 | Intermediate Pilates with Suzi |
| Thursday | |
| --- | --- |
| 0800-0900 | Mixed ability Pilates with Suzi |
| 0930-1030 | Mixed ability Pilates with Suzi |
| 1045-1145 | Beginner Pilates with Joanna |
| 1045-1145 | Beginners Yoga starting soon - please contact us for details |
| 1815-1915 | Mixed ability Pilates with Suzi |
| 1930-2030 | Mixed ability Pilates with Suzi |
| Friday | |
| --- | --- |
| 0800-0900 | Mixed ability Pilates with Anne-Marie |
| 0915-1015 | Bone Strength Pilates with Anne-Marie |
| 0930-1030 | Mixed ability Pilates with Suzi |
| 1030-1130 | Healthy Back Pilates with Anne-Marie |
| 1045-1145 | Mixed ability Pilates with Suzi |
| 1215-1315 | Studio session with Suzi & Alanna (using the Pilates apparatus - 6 people max) |
| Saturday | |
| --- | --- |
| 0900-1000 | Mixed ability Pilates with Suzi |
| ​0900-1000 | Beginners/improvers Pilates with Jackie |
| 1015-1115 | Beginners Pilates with Suzi |
| 1015-1115 | Mixed ability Pilates with Jackie |
| 1230-1400 | Yoga with Alex - New! |
Group Pilates Classes – £45 for 5 lessons
What to expect
Our group classes have a relaxed and informal atmosphere.  Exercises are performed in various positions; standing, sitting, on hands and knees, lying on your side and lying on your back. Various small pieces of equipment are used, including stretch bands, weights, balls, foam rollers and toning circles. All equipment is provided, including mats, though clients may bring their own mat if they prefer.
Get started 
Classes are open to everyone but are not run on a drop-in basis.  If you are new to Pilates or have any particular movement or health issues it is essential to book a private introductory lesson first.  This gives your teacher the chance to assess your movement and strength and teach you the basic principles of Pilates. This lesson costs £40 and lasts an hour.
Progression
After this you may join either a beginner or mixed ability class, depending on your individual needs and ability.  To join an intermediate class you must have been practising Pilates for at least a year and be free from injury.  Classes must be pre-booked to secure your place.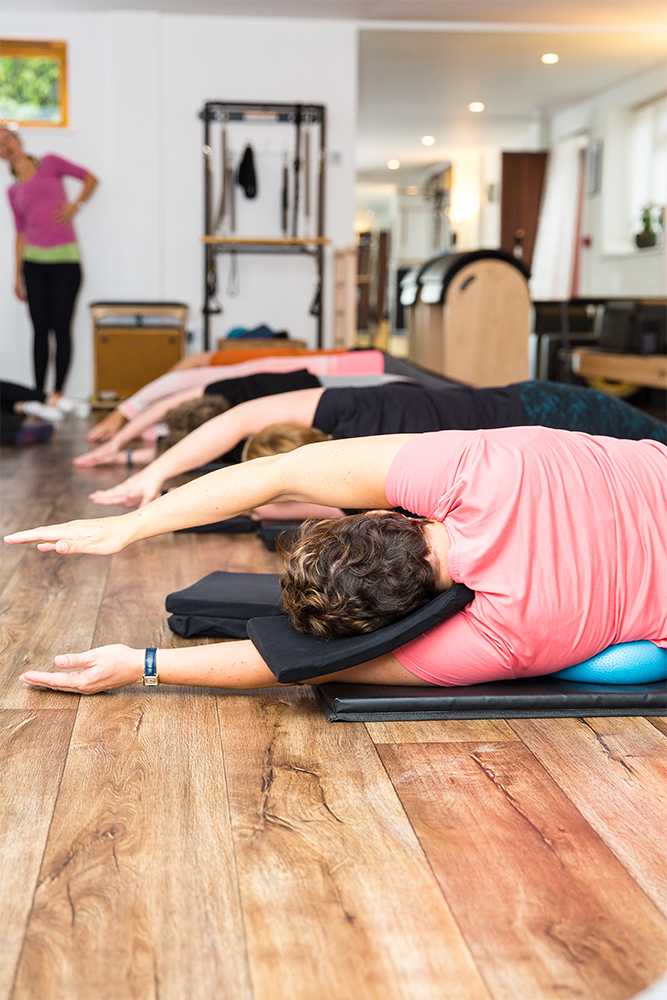 Beginner/Improver or Healthy Backs
Entry level classes where the basic moves are mastered. Suitable for those new to Pilates, recovering from injury or those wanting to manage back pain.
Mixed ability
A general level class where more moves are explored and alternatives are given for the more challenging exercises.
Intermediate
A challenging and faster paced class where you must be free from injury and have been practising Pilates for at least a year.
Bone Strength
This is suitable for anyone concerned about their bone density – if you have osteopenia or osteoporosis this is especially important but anyone over 50 will benefit from working on their bone density which we do with bands, balls and weights!
Pregnancy
Pilates is one of the safest ways to exercise during pregnancy and this class is available for anyone from 16 weeks onwards (Please note this class costs £10 per session).
Yoga
These classes are taught by Alex of Inspiral Yoga and are suitable for all levels. Classes last for 1.5 hoursand cost £11 per session.
Private Pilates Tuition: £50 for 1 hour
If you are recovering from injury, suffer from persistent lower back pain or just prefer working on a 1:1 basis, private sessions are available at various times on weekdays. A private lesson can be a combination of mat-based and equipment exercises (Reformer, Cadillac or Chair) – dependent on the teacher's experience – and can be tailored to suit your needs, with an exercise plan put together for you to practise at home in between lessons if desired. With 1:1 attention clients often find that they make quicker progress and also enjoy having the flexibility to change their class time when necessary.
Studio Pilates Sessions: £20 for 1 hour
After your private introductory lesson you may choose to work on the Pilates apparatus. A Studio session makes use of the Reformer, Cadillac, Wunda Chair, Ladder Barrel and Spine Corrector. Using the Pilates apparatus you will challenge your strength with the use of springs, pulleys and pedals, but also support your movements, helping get into those 'stuck' areas. An excellent all-round workout for all levels. Maximum 6 people.
These classes have transformed my abdomen
"I am really enjoying Pilates and am glad I took it up for the first time last Nov, it has transformed the strength in my abdomen which is good for my job and my legs look more trim which is a vanity thing, not a work thing!  I have become addicted to the "muscle burn" especially in my abdomen and hate missing a class. It's amazing that such little but precise movements can transform your body. I also love the fact the studio is in a rural location instead of in a town and I love the studio, it's very stylish, calming and a nice size."
---
Love these classes
71 year old exercise obsessed Pilates disciple says "Pain is history, only 8 weekly sessions changed my life completely. 3 ½ years later still feeling 32('ish) again!"
---
Fabulous class
"Fabulous class tonight - thank you!  Since attending your classes I feel stronger, toned and more flexible.  Feeling grand considering I've just turned 40!  Thank you for all your tuition and support."
---
My body has transformed!
"When I came to you I was very unhappy about my body shape as my abdominal muscles had gone AWOL! I also had a constant low back pain probably from bad posture. I have just completed a year of your classes and feel completely different .My abdominal muscles are back working and have helped my shape and my back pain has gone! I am very gra​teful to you and Alanna." 
---
Suzi's classes have helped with my back pain
"After being diagnosed with chronic muscular back pain due to sitting at a desk all day for years, and generally poor posture, someone recommended Pilates with Suzi. After just a few months the back pain has completely disappeared, and the posture is improving constantly. I do two sessions a week and thoroughly enjoy the time from the general stress of work and business of everyday life."
---
If you would like to discuss our classes then please contact us and we will be happy to arrange an appointment for you.
Suzi Staden Pilates Studio
Telephone: 07740 120336
Email: suzi@suzistadenpilates.co.uk
Address: Evegate Business Village, Smeeth, Ashford, Kent, TN25 6SX

Opening Times
Monday – Friday: 9am–5pm
Saturday & Sunday: Closed
Lessons & Classes
Monday-Thursday: 8am-9pm
Friday: 8am-3pm
Saturday: 9am-1130am