Covid-19 update: all classes and 1:1 lessons are currently being taught via Zoom - contact us to find out how you can join our growing online community and practise Pilates from the comfort of your own home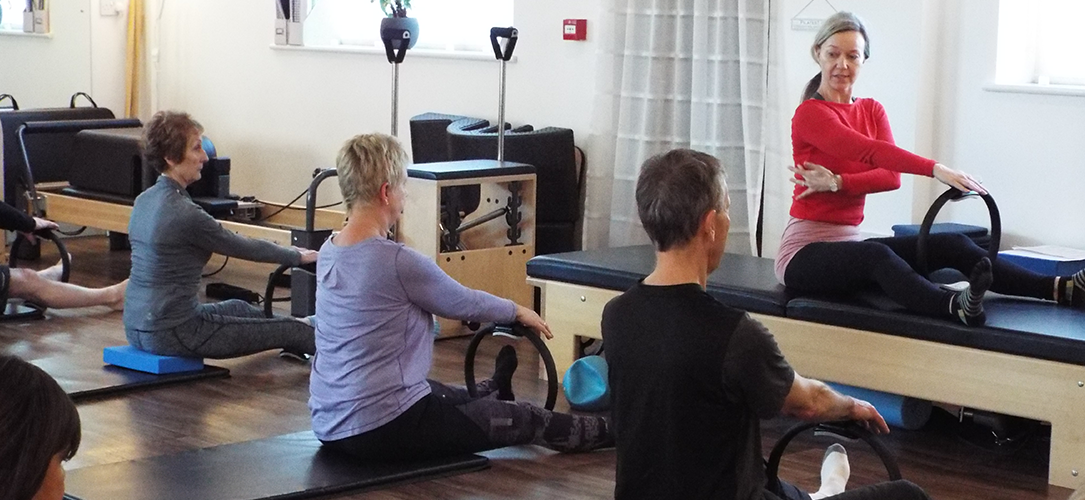 Helping you to
feel your best
​Welcome to Suzi Staden's Pilates Studio
Did you know that pilates can be life-changing? Here at our Pilates studio, we want to share our wealthof experience with you to help you feel your best.
We are based at the beautiful semi-rural location of Evegate Business Village, Smeeth, Ashford, Kent, TN25 6SX. We provide free parking and the studio is a modern, calm space with underfloor heating and is easily accessible, being just 3 minutes from J10a of the M20.
Pilates is a hugely effective form of exercise that strengthens the body from the inside out. It can help to…
• improve your posture
• flatten your tummy
• tone your muscles
• relieve unwanted stress and tension
• reduce back, neck and shoulder pain
Practised by elite athletes and beginners alike – everyone can benefit from Pilates so come along, have a go and see what it can do for you!
Classes are are extremely friendly
"I've been attending and enjoying classes at Suzi Staden's Pilates Studio for well over three years, and it helped me get through a full knee replacement operation in late 2016.  I'm fighting fit now and still enjoying the classes 3 years later. All the classes I've attended are extremely friendly and everyone makes you feel part of the group. Suzi is a very patient and brilliant teacher and she has an excellent team of teachers assisting her too."
---
I really enjoy my weekly classes
"I really enjoy my weekly classes at the Studio, you receive an almost one to one from Suzi with very clear instructions and guided assistance to ensure you are aligned correctly to maximise the benefit. You can be sure of variety each week and you are always guaranteed clean equipment! Thank you very much Suzi."
---
I cannot praise Suzi and her team highly enough!
"I cannot praise highly enough or recommend strongly enough, Suzi and her team and Pilates itself!  After a debilitating injury early in the year I had to refrain from my classes for 12 weeks. When I re-started, I had huge support and advice from the team and felt the benefit immediately. After a few months I found I was getting more relief and certainly more pleasure from increasing my classes than I was from physiotherapy! I have now stopped the physio and replaced it with a second Pilates class. I also love the different styles of Pilates used by different team members and really feel the benefit of the combination."
---
Excellent Pilates Studio
"If you want to make your day - and life - better go to Pilates at Suzi's studio."
---
If you would like to discuss our classes then please contact us and we will be happy to arrange an appointment for you.
Suzi Staden Pilates Studio
Telephone: 07740 120336
Email: suzi@suzistadenpilates.co.uk
Address: Evegate Business Village, Smeeth, Ashford, Kent, TN25 6SX

Opening Times
Monday – Friday: 9am–5pm
Saturday & Sunday: Closed
Lessons & Classes
Monday-Thursday: 8am-9pm
Friday: 8am-3pm
Saturday: 9am-1130am